When we talk about home staging, we refer to a term which is being increasingly used throughout the sales process of properties in Moriara
When we talk about Home Staging, it may sound familiar to you; however you may not know exactly what we are referring to. Many home owners in Moraira and the surrounding Marina Alta areas in general have begun to use this method before allowing potential buyers to view their properties.
If we refer to the staging of a play in theatre, movies or a television series, we automatically imagine the organization of professionals, and making changes to create a more attractive environment for spectators. Well, the idea is the same for Home Staging, where 'staging of the home' is carried out. We all know that the first impression is the one that counts, which applies as much to our properties as it does to people.
The aim of Home Staging is to achieve 'love at first sight' with the clients that are interested in your home, increasing the strength of what is already in place and correcting areas that are weaker. For example, if your property has a vast living area with large windows, it is important to enhance this room and make it stand out over others. We will make sure that the property sticks in the mind of those interested, thanks to that positive first impression. On the other hand, if there are weaker areas within your home, Home Staging does not try to hide these areas but it works on a solution to give it a better appearance. Something commonly done is filling in holes left over by removing picture frames from previous owners. It sounds as if it's of no importance, however these are the tiny details that can turn a client away, and possibly be a deciding factor between your property and someone else's. Our finishings make the property look like it hasn't been lived in, achieving a look that is aesthetically attractive.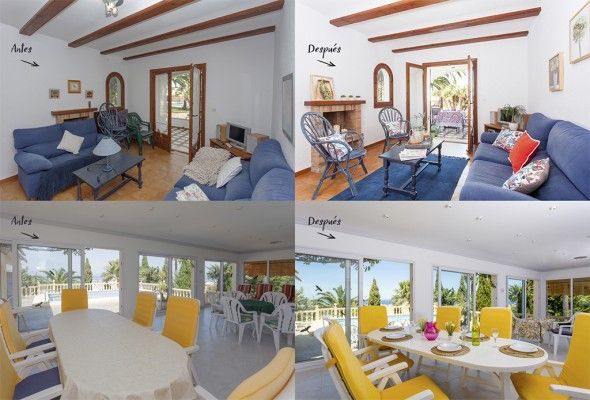 Carrying out this work alone is complicated, and therefore it is better to trust a professional to carry out Home Staging and to help put your house in order, leading to making the most out of each viewing that you receive. The most important thing is that you don't lose an opportunity to close a sale on your property.
At Estate Agents Moraira, we are here to help!