To witness the growth and formation of a Project is something that has excited us since Constructions Marva was founded in Moraira. Each of the villas we construct is different to the previous, and will be from the next. There are luxurious villas with sea views, modern villas with panoramic views; traditional villas of the Marina Alta region … The construction possibilities are infinite. We always put forward our full effort and knowledge into each of the constructions or renovations, starting with the development of plans all the way through to handing over the keys to the new owners.
Today we are looking forward to show you the construction progress of one of our favourite constructions in Moraira… a luxury villa that goes by the name of Villa Rosa.
This is a luxury villa of extremely modern style, and totally contemporary. Its straight lined walls on the exterior produce a visual sensation of cleanliness, aesthetically different in the eyes of those who walk through Moraira's streets.
It is a marvellous villa with its accommodation on two levels, also being south orientated, which means that it is illuminated all day from the beautiful Mediterranean sunshine. It also has a modern infinity swimming pool within the ample sunbathing terrace, with plenty of space to enjoy the surroundings, alongside the magnificent views.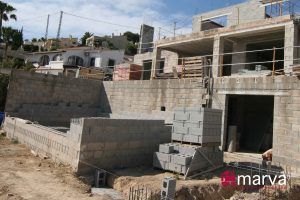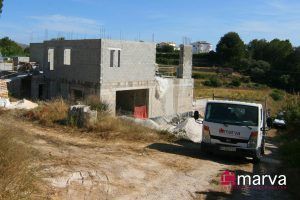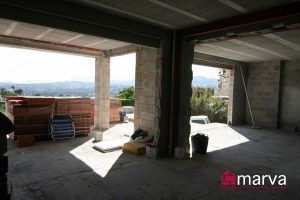 The modern villa is being built with first class, high quality materials. Its reinforced concrete walls with wooden touches on the frontage produce the modern look that you are looking for, which at the same time, keeps the property cooler during the summer months and warm during the winter period. Something which is very important within an area like the Marina Alta, as the difference in temperatures throughout the seasons does tend to be noticeable.